If you've been around the vaping community long enough, Smok may need no introductions.
Smok has earned a reputable name in the vaping industry for its consistency in producing top-quality vaping hardware. The brand boosts a wide range of devices, particularly pod systems.
In the past few years, Smok has thrilled vaping enthusiasts with some remarkable designs. Two notable mentions among their list of attention-grabbing innovations are the Smok Nord and Smok Novo.
The debate on which to choose among these options is common among vaping connoisseurs. Before you jump on either side of the debate, this piece is an interesting read. Below, we have reviewed these devices, detailing their features, strengths, and weaknesses, to help you make the best-informed decision.
However, vapers commend both options for their relative versatility which most systems on the market lack. From visuals, both products have a close semblance, but there are a lot of differences which are discussed below.
Before we go over some critical points of comparison, let's check these products out, individually.
Smok Novo Pod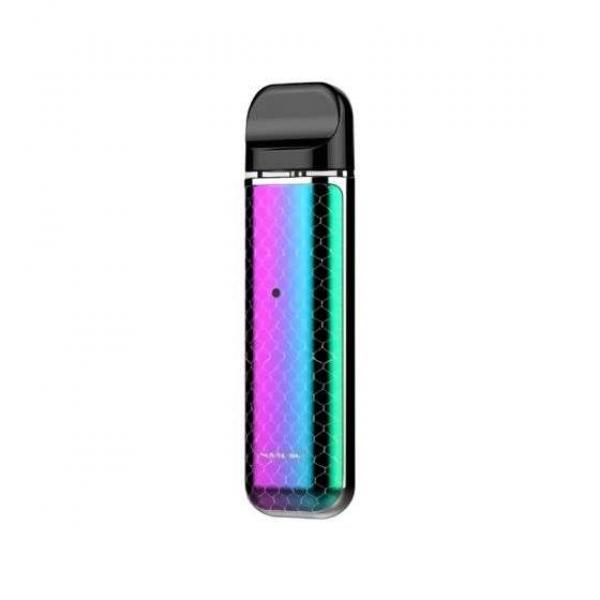 Smok Novo comes in 88.3mm by 14.3mm by 24.3mm dimension and with 40g weight. The device is available in different colours.
The chassis is designed of zinc alloy, with a plastic mouthpiece. Smok Novo houses a 450mAh battery juice which can sustain a decent vaping session. The device also spots a micro USB port for easy charging, a LED battery indicator and wattage of 6W to 25W.
However, the wattage is not user-controlled, but, instead, features an automated regulator which works with the battery level. Novo comes with no buttons and draw-activated, which makes it a good fit for those new to the vaping community.
Smok Novo boosts 2ml e-juice capacity. This refillable device works for both nicotine salts and freebase nicotine e-juice. This pod is tailored to provide a mouth-lung hit, with two [un-adjustable] airflow holes.
Smok Novo works with several coils, including a 1ohm coil, 1.40hm coil, and a 1.5ohm coil.
Smok Nord Pod System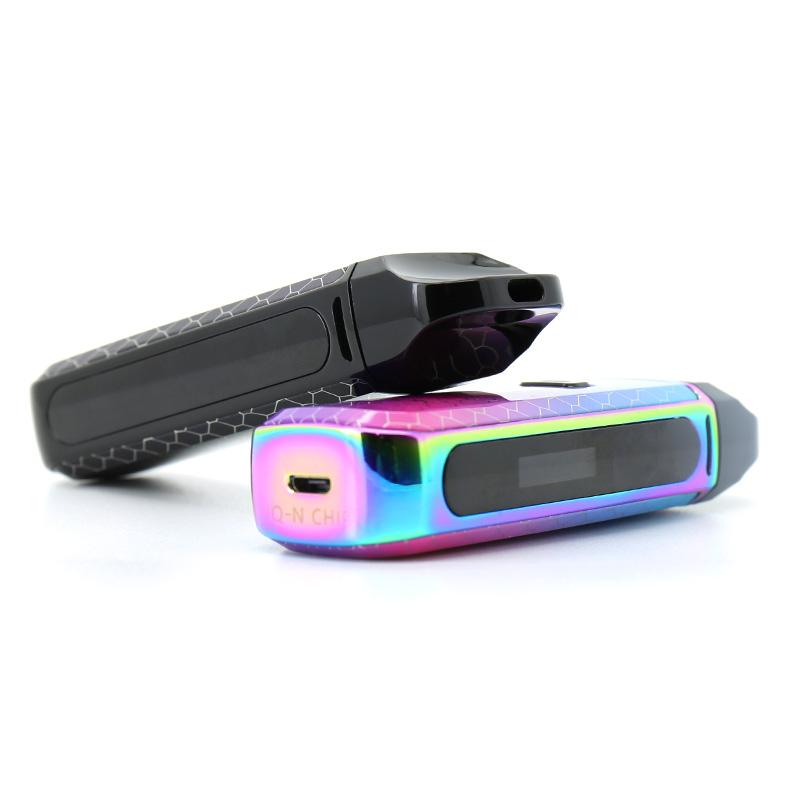 Smok Nord weighs 80g and a 94mm by 18.8mm by 30mm dimension. As with the Novo version, the device's chassis is made of aluminium and plastic duck-billed drip tip.
The device is available in a range of exciting colours.
Smok Nord flaunts a massive 1100mAh battery capacity, strong enough to hold your sessions for at least a day – or more – depending on your vaping duration and frequency. This device also features a USB cable for recharges and a LED battery indicator.
Unlike the button less Novo, Nord comes with a single button that multitasks as both the firing button and power button.
Nord pod boosts a larger 3ml refillable vape juice capacity – about a millilitre ml more than Novo's 2ml capacity. The pod works with different coils, including a 0.6ohm mesh coil, 1.4ohm coil as well as a 1.4ohm ceramic coil.
Both the Novo and Nord do not allow adjustable airflow, but feature an adjustable wattage. Both Smok Nord and Smok Novo bag some impressive protective features such as 8-second cut-down, low voltage protection, short circuit protection and more.
Fact is, both Smok Nord and Smok Novo are great devices. However, the Novo version, with its basic features, comes off as one thoughtfully designed for new vapers. The Nord, on the other hand, may be more suitable for those seeking more power and functionality from their pods.
Smok Novo Vs Smok Nord – Which should I choose?
Choosing one over the other can still be complicated, even after the descriptions above. To help you make a well-informed decision – or simply stay informed -, let's compare a few vital differences that stick out.
Size
Even from a distance, the Novo device looks more compact than the Nord, which is wider, taller, and thicker.
Nord's bigger appeal is, however, partly justifiable. It comes with a fire button which also serves as a power switch. Clicked five times, your Nord shuts down by way of preventing mis-fires. Novo is without these additional features. Instead, it comes with an auto-draw feature – simply inhale and get your cloud.
Battery life
Talking battery juice, Novo's moderate 450mAh battery life is no match for Nord's super 1100mAh.
Both devices are charged the same way. They both spot a MicroUSB cable that works with a power source.
However, expectedly, Nord delivers about twice the power backup of Novo. For this, Nord is recommended for long sessions and on-the-go users who may not easily get access to a power source. Nord's battery life may however drop with power-hungry low resistance coils.
Pod options
While Novo comes with a 2ml pod, Nord outshines with a 3ml pod capacity.
Remember – the bigger your pod size, the more e-liquid and nicotine you can use. But the bigger pod capacity of the Nord [partly] adds to its bulkiness. Besides, the Nord also allows more alternatives for coils. It comes with sub-ohm coil, ceramic coil, and standard coil setups.
These wide-ranged coil options make Nord suitable for not-so-experienced users looking to satisfy their flavour-hungry taste buds.
However, Novo's single option refillable pod is ideal for starters as they have fewer complexities and installations to hurdle through. It's as easy as refilling your mod and vape away. And as soon as the hits start feeling burnt, simply replace.
Wrap up – the verdict
We still can't say which to choose over the other. But here are some final quick tips to help you choose right…
Go for Smok Novo if:
You're looking for a basic non-complex pod to kick start your vaping journey
You're on-the-go users who desire portability
Prefer Smok Nord if:
You seek more functionality
You desire more battery juice
You're not bothered about the bulkiness
You seek longer lasting vaping sessions.
Not sure where to purchase top-quality vaping devices and accessories? We not only sell industry-vaping products, but we also hold you by the hand through the safest and most fun way to enjoy your vaping sessions.