Description
Product include :
VINCI Device*1
VINCI Replacement Pod (5.5ml*1)
PnP~VM1,0.3Ω*1
PnP~R1 0.8Ω*1
USB Cable*1
User Manual*1
Warranty Card*1
Chip Card*1
Gift Card*1
Built in battery *1
Specification
Pod Parameters
Capacity: 5.5ml(TPD 2ml)
Material: PCTG
Resistance: 0.3Ω(PnP-VM1) 0.8Ω(PnP-R1)
MOD Parameters
Name: VINCI
Material: Zinc Alloy
Output Power: 5-40W
Output Voltage: 3.2~4.2V
Resistance: 0.1~3.0Ω
Battery Capacity: 1500mAh
Size
104*25.3*25.3mm
We recommend  using an external battery charger for optimum charging (Available here)
Product Features:
GENE.AI, Makes MOD More Intelligent
GENE.AI may be the smartest chip in electronic cigarettes,
standing out by intelligent coil matching feature, auto and manual modes. It makes VINCI more convenient and vapor-friendly than other mods
Manual & Auto Modes
If you want to enjoy both vaping via button pressing and inhalation activation, quickly press the button three times to switch between manual and auto modes.
Intelligently Prevent Coils from Being Burned out
If you are a fresh hand to mod or a user unfamiliar with adjusting power, it is highly recommended for you to choose VINCI.
GENE.AI enables it to smartly recognize coils and automatically
match power, to a large extent avoiding coils being burned out.
Visible "Capacity"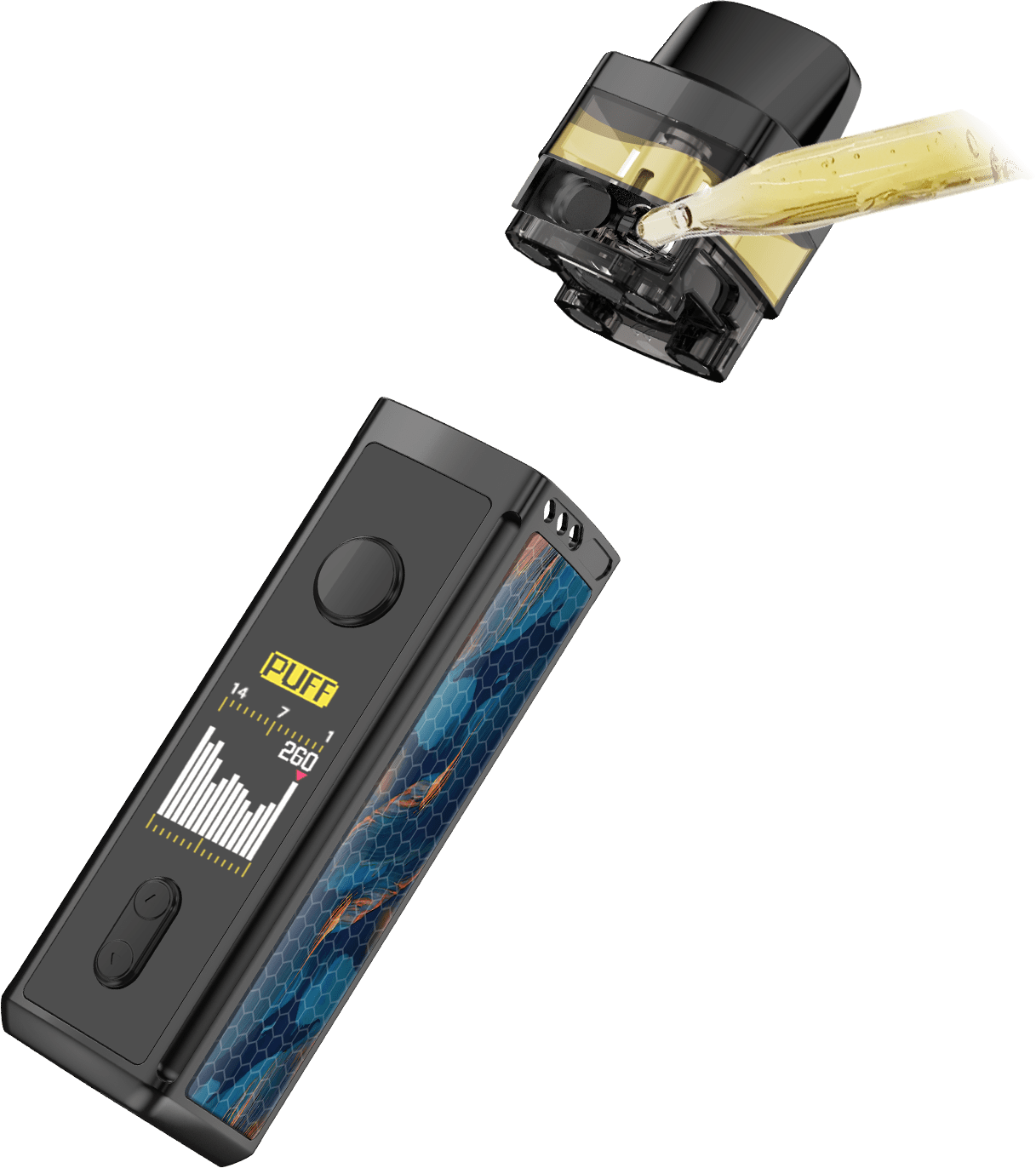 5.5ml ultra large pod, is another visible highlight in VINCI.
Every drop of remaining e-liquid is noticeable.
Innovative metal holder provides powerful protection for leakproof
Visible "Inhalation"
"Visibility" is the first key point we care most, aiming at that every customer could have a handier and more humanised experience when using this device.
Notably, you can check your vaping habit through a puff curve, which will display your accumulative puffs in realtime on the screen and keep those records for two weeks.
Two Coils in One Device Changeable Vaping Experience
VINCI is compatible with 0.3Ω and 0.8Ω coils, respectively offering the best purification for e-liquid and nicotine salt.
Innovative Dual Airflow System
Rotate the cartridge 180 degrees to change e-liquid or other coils, then you can have a totally different vape experience.
Seven Safety Protection
Overtime Protection

Intelligent overtime protection will avoid atomizer's coil and cotton burning.

Short-circuit Protection

When the short-circuit is detected, the mod will protect the battery by preventing the circuit returning.

Overcharge Protection

With dedicated lithium battery protection components, the battery will be protected against battery overcharge and damage.

Output Over-current Protection

Intelligently detect output current, and close the output current when the current exceeds the highest limit.

Over Discharge Protection

With dedicated lithium battery protection components, the battery will be protected against battery discharge and harm.

Max Power Protection

Intelligently match power, and it is not allowed to adjust the power above the highest limit, to prevent coils from being burned out.

Over-temperature Protection

TC mode assures the mod and battery work properly within safe temperature