Description
Disposable Face Mask Details
| | |
| --- | --- |
| Product Name: | Disposable Face Mask |
| Size: | 17.5cm*9.5cm |
| Color: | Blue |
Disposable Face Mask Introduction
Disposable Face Mask are designed in three-ply structure.
The outer ply is made by non-woven fabric to catch dusts and ashes, reducing hazardous substances. The outer ply is moderately thick and flexible.
The middle ply is made up from a melt-down BFE95 material that acts as filter that stops microbes and particulate substances.
The inner ply is made by ultrafine fiber which is skin friendly and dam proof.
How To Use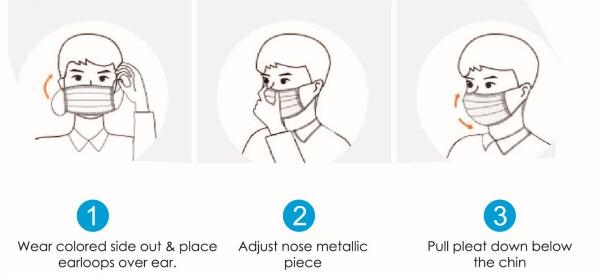 1.Wear colored side out&place earloops over ear.
2.Adjust Nose Metallic piece.
3.Pull pleat down below the chin.
Parameters of Neutral Disposable Face Mask
| | |
| --- | --- |
| Effectively Prevent: | Virus/Bacteria/Germ/Dust/Particle/Pollen |
| Physical Parameter: | 3-Layer |
| Bacteria Filtration Efficiency: | ≥95% |
Features of Disposable Face Mask
➤ Meltblown Fabric And 3-Ply
➤ Latex Free And Soft And Comfortable
➤ Non-Linting
➤Light Weight And Disposable
➤ Melt Blow Polypropylene Filter
➤ Ultrasonic Bonding For A Cleaner Mask
The Package of the Disposable Face Mask Includes
✔ 50 x Disposable Face Mask